Truth Excavation specializes in doing dirt work for high end custom homes.  90% of the jobs we do are on properties with breathtaking views on the West Side of Maui, Hawaii.  We never compromise for quality work and have a long list of very happy customers.  Almost all of our business has been by referral.
Truth Excavation is founded and solely owned by Kimo Clark who is a 4th generation Maui Native and 1st generation Heavy Equipment operator.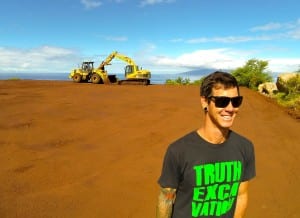 "I started Truth Excavation in 2011 when I got my contractor license for excavation, grading and trenching, drainage systems and septic.  Since then, business has been booming."
Starting the business with 1 backhoe and a single axle dump truck, Truth Excavation now has 10 pieces of equipment ranging from 3 ton to 35 ton excavators and equipment with various trucks and trailers.
Truth Excavation's distinctive colors started out with green and black work shirts.  It quickly spread to the trucks and then on to the equipment.
Our brand stands for originality.  We want to stick out from the normal everyday construction colors and themes.  We do exceptional work, with style.
TRU.X
The TRU.X brand started as an abbreviation to Truth Excavation, but turned into a phrase that means stay True to your passion (X) whatever that may be.
We take our influences from our Maui lifestyle of surfing, skating, riding dirtbikes and operating heavy machinery.
TRU.X stands for limitless possibilities. Living life to the fullest while having the most fun.